Underwater Workouts With The Spongy Wonder Bike Seat
THE SPONGY WONDER HORNLESS BICYCLE SEAT – Good Health and Great Performance!
Underwater Workouts With The Spongy Wonder Hornless Bicycle Seat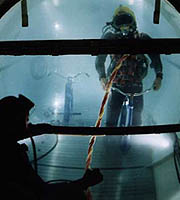 That's how divers at the Experimental Diving Unit (EDU) Section of Defence Research and Development Canada (DRDC) simulate the stress of working far beneath the surface. It turns out that the key to a comfortable and "safe" underwater ride is a hornless bicycle seat developed by Spongy Wonder Inc. (www.spongywonder.com), which completely eliminates the pressures that damage sensitive urological and neurological vessels.
Robert MacLean at EDU reported that conventional bike seats fell apart after two dive series and began to corrode, thus threatening to contaminate the water and foul expensive equipment being tested in the chamber. The Spongy Wonder Bicycle Seats had been in continuous service for eight months in simulated depths of 81 msw (meters seawater) with no sign of corrosion or seat pad damage.  – Jean M. Hoffman 2003.
UPDATE:  15 years later and the same Spongy Wonder Bike Seats purchased by the Experimental Diving Unit (EDU) in 2002 are still in service! Spongy Wonder has significantly upgraded its frame material and now boasts an ultimate yield strength (UYS) of 215ksi or 215,000psi! And of course they still do not chip, rust, corrode or discolour.